Mountain Bikes are very popular today. They are designed for off-road riding with trail-rated tires, level handle bars, strong frame construction, and gear ratios optimized for uphill acceleration. Some mountain bikes have shock absorbers on one or both wheels.
 Spotlight on:  Mountain Bikes by Specialized
Cycle Funattic carries Specialized moutain bikes, featuring our most popular models: Hardrock, Myka, and the built-for-performance Rockhopper.  These bikes feature weather-resistant cable housing, mechanical disc brakes, and off-road gearing.  Available in a variety of colors and accessories.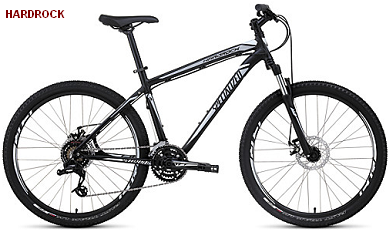 Contact Us:
Store Phone: (908)454-0432
Email: cyclefunattic@verizon.net
Store Location:
403 S. Main Street
Phillipsburg, NJ 08865
Hours:
Monday: 10:00 - 5:00
Tuesday: 10:00 - 6:00
Wednesday: Closed
Thursday: Closed
Friday: 10:00 to 6:00
Saturday: 10:00 to 5:00
Sunday: 12:00 to 4:00